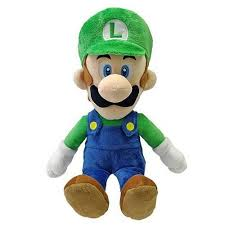 Luigi is the 2nd main character.
Personality
Edit
Luigi is Mario's Brother. He is upset most of the times. His girlfriend is Daisy.
Occupation
Edit
Luigi's job is a plumber. His age is around his 40's. His first appearence was Unboxing # 1. His latest appearence was Mario and Luigi's New Adventure Episode 4.
Appearances
Edit
Unboxing # 1
Mario and Luigi's Adventures (Episode 1 and 2)
Luigi's Strap
Mario's Addiction
Bowser Junior's Party
Mario Plush Collection 2014
SuperPlushBros Welcome Video
SPB Awards: 2013-2014
Mario and Luigi's Vacation
L is for Lonely
Mushroom Stew
Mario and Luigi's New Adventure (All Episodes)